Welcome to We Clean Any Gutter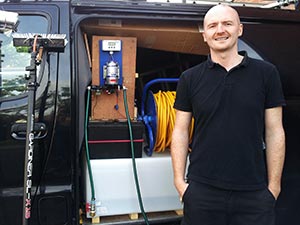 Hi my names Tom and i'm the owner operator at We Clean Any Gutter. We are a small local friendly company based in Surrey and operating throughout the South East. Don't hesitate to give me a call or leave a message to discuss any work you need doing or just fill in the online form and I'll get back to you. Thanks, Tom
Gutter Cleaning Guildford | Surrey | GU1

We Clean Any Gutter in Guildford and GU1. Please select your postcode area above to get your ONLINE gutter cleaning quote.
Once you have filled out our online Gutter Cleaning Quote form you will receive a fixed price quote for your particular property by email. We aim to get a quote to you by the end of the day.
We use the latest 'Gutter Vacuum' system to clear all gutters in Guildford and GU1. This method is quick and efficient causing little mess. With our Gutter Vacuum we can clean all those before hard to reach areas like above conservatorys and extensions.
Inspection cameras are used to carry out a before and after survey of your gutters to ensure they are clear of all debris. Before and after images are available on request. If you are looking for a Gutter Cleaning Service in Guildford and GU1 We Clean Any Gutter are here to help.

Using state of the art 'Gutter Vacuum' equipment which consists of an industrual 3000w wet and dry vacuum connected to our super light weight carbon fibre suction poles we can literally Clean Any Gutter in Guildford!

Our system can reach up to four floors without the need for expensive scaffolding or cherry pickers. We can also reach over ground floor extensions and conservatorys meaning those previously inaccessible areas of your gutters can now be cleaned with ease.

We also offer an external gutter and fascia cleaning service in Guildford. Using our carbon fibre water fed poles we can wash away all that unsightly algae having all your external UPVC shining in no time.

Here at We Clean Any Gutter we offer a full Gutter maintenance service in Guildford and GU1 to help keep your gutters working efficiently. We are the first choice for gutter cleaning services in Guildford.

We recommended that gutters are checked and cleared of all blockages at least once every year in order to give you peace of mind that your gutters are problem free.

Your gutters will be surveyed with our wireless camera as the job is being carried out. The debris will be removed using our highly efficient and powerful gutter vacuum system. All the moss, leaves and the odd tennis ball will be safely cleared with our feet firmly on the ground. We Clean Any Gutter are specialist gutter cleaners in Guildford and GU1 and all surrounding areas and towns. If you need any of our services take advantage of our online quote form to receive your tailored quote instantly.

If you are aware of any drips, leaks, water cascades and damp patches around your home it is highly recommended you have your gutters checked and cleaned to ensure no unnecessary damage is done to your home in Guildford.

We use the latest equipment to meet new health and safety demands. Our powerful vacuum and light weight suction poles coupled with our wireless inspection camera mean we can carry out all the gutter cleaning in Guildford without the need of ladders. We aim to get the job done with as little inconvenience to you and causing as little mess as possible. We Clean Any Gutter specialise in the cleaning, repair and maintenance of guttering in Guildford and GU1 postcode areas. We are fully equipped with the latest gutter vacuum machines allowing us to clean your gutters more effectively and efficiently at very competative prices in the Guildford area and all surrounding towns and villages.

Gutters are in place to carry water away from a property. If allowed to get blocked gutters will overflow and can cause serious damage to a property due to water ingress and possible problems arrising from foundations getting water logged.

To receive a no obligation quote for gutter cleaning in Guildford just select your postcode from the drop down list above to be taken to our quote form.



• We clean gutters to both residential and commercial propertys throughout the south east.

• No gutter is too difficult for us to clean. Our gutter vac performs every time!

• Don't put up with that dripping gutter any longer. Don't delay, call us today!

• You can receive your unique quote for gutter cleaning in seconds using our online form.


We Repair Any Gutter in Guildford
We can also repair your broken or leaking gutters in Guildford.
When we carry out the gutter cleaning works we will inspect your gutters and look out for any problems. We will inform you of any areas that need attention and for a small extra charge we can usually carry out small gutter repairs that require no extra parts at the same appointment as for your gutter cleaning works.
If you know of any areas that are leaking please point this out to us at the beginning of the appointment.